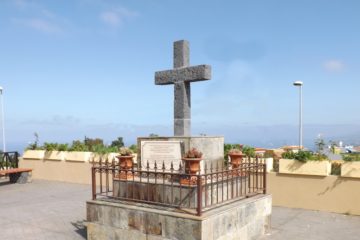 Artist: Elaboración industrial
   Year: 2009
   Medium: Stone
   Description: Monumental Cross
   Location: Plaza de La Punta in Cruz Santa neighbourhood.
This sculpture pays homage to the wooden cross that was found in 1666, according to the legend, in the then called Pago de Higa –now Cruz Santa-, by a horseman from a neighbouring estate. The horseman was about to cross the ravine separating Cruz Santa from La Orotava municipality, when the horse started neighing and refused to do it. The horse then started to scrabble the ground exposing the wooden cross. Shocked by this finding, the owner of the estate commanded the construction of a chapel in the same place, known as the 'lucky mound'. Ever since, devotion to the Holy Cross started. In 1713, the chapel was devastated by a storm and that's when the plans for the construction of the present church began.