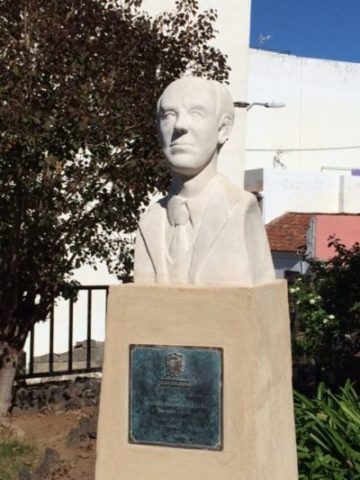 Sculptor: Vicente Francisco García Palmero
Year: 2017 (unveiled on December 22nd, 2017)
Material: Bronze and concrete
 Features: Bust of Agustín Espinosa in bronze on a 160cm high concrete
pedestal in the shape of a truncated pyramid with a median cross section
of 50 x 50 cm.
 Location: Plazoleta Agustín Espinosa
Agustín Espinosa García (born 1897 in Puerto de la Cruz, died 1939 in
Los Realejos) was a surrealist writer who belonged to the generation of
27. He was born in the town of Puerto de la Cruz but lived in Los
Realejos since his childhood, in the family house located in the
district of San Agustín.
He is considered to be among the best representatives of Canarian
surrealism, whose work, Crimen (1934), is the pinnacle of prose in said
style. His voyages throughout Spanish territory and Paris, his
insatiable search for knowledge and novelty foreshadow that future,
nearly genetic acceptance of movement in him.