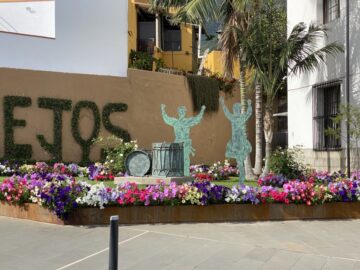 • Author: Design by the Festivities Council. Execution by the Fornax foundry.
• Year: 2021
• Materials: bronze
• Features: group of sculptures
• Place: Calle El Medio de Arriba
A group of sculptures consisting of two silhouettes of dancers from El Hierro, two drums, chácaras(Canary Island castanets) and a whistle, life size, cast in bronze on a concrete base, in honour of theinhabitants of Sabinosa for their great connectedness to the traditions of Los Realejos and the MayFestivities.