Details
| | |
| --- | --- |
| Difficulty | Difícil |
| Duration | 7:00 horas |
| Circular | No |
| Distance | 14,41 km |
| Acc. drop | 2.198,00 mts |
Starting point for this hike is the Viera y Clavijo square right next to one of the most festive streets of the municipality: The "calle el Medio de Arriba". This street and the "calle del Sol" are the centre of one of Europes biggest pyrotechnical shows. It takes place on every 3rd of May during the festival of
"Crosses and Fire in May"
in Los Realejos.
Important points of reference are the municipal Office of Tourism and the
church of the Apostle St. james
, which was the first Christian church on the island. On the other side of the road is the old town hall, built by Juan Margarit Serradel in the seventies of the past century and which currently holds the
municipal library "Viera y Clavijo".
The main part of this trail follows the channel of the La Lora ravine through the
"Corona Forestal" nature reserve
which has a surface area of 46,613 hectares and is hence the largest protected nature reserve of the Autonomous Community of the Canary Islands.
On our way up to
the recreational area of Chanajiga
we come across a number old roads and paths, houses and other interesting buildings that tell us how the lives of the residents of the area were completely connected to the environment. It is worth mentioning that this trail is registered and complies with European regulations. The standardised waymarks that we will find along the way consist of two parallel stripes, white on top and yellow below, this being a short path.
Route map
Flora y fauna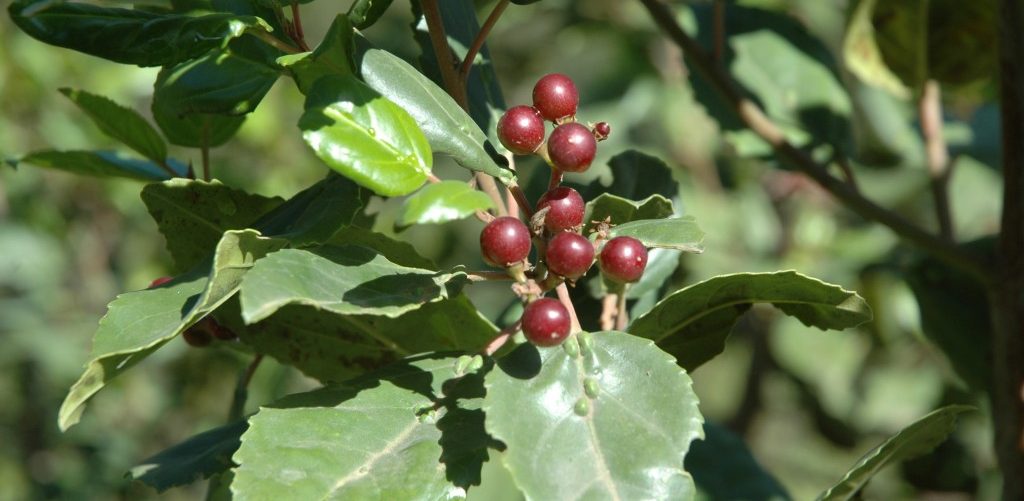 The escarpments along the slopes of Tigaiga which are practically bare of vegetation are ideal nesting areas for birds that nest in crevices and on ledges. Surrounded by less steep slopes where laurel forest and thermophile shrubbery grow, these cliffs have numerous natural ridges and cavities that are used by birds for nesting. While the common bussard (buteo buteo) is probably the most conspicuous bird of prey in this area due to its wingspan, you can also find common kestrels (falco tinnunculus) and Barbary falcons (falco pelegrinoides).
We must also not forget that these escarpments, especially the ones covered in vegetation, are excellent nesting grounds for the endemic Laurel pigeon (columba junoniae) and Bolle's pigeon (columba bollii), the two endemic species of the Canary Islands that are associated with the laurel forest and shrublands. In the less steep ravines, slopes and escarpments shrubbery grows that mixes with the pine woods at higher altitudes. A great number of invertebrates that can only be found on the islands live in these areas: among others land snails of the genus hemicycla, beetles and millipedes. As far as birds are concerned, one of the most characteristic but at the same time most elusive bird in these surroundings is the Eurasian woodcock (Scolopax rusticola).
Route Description
Image Gallery
Video of the route
Practical information
Data sheet
Transport
Recommendations
Details
Difficulty

Difícil

Duration

7:00 horas

Circular

No

Distance

14,41 km

Going up

7,31 km

(51%)

Going down

7,09 km

(49%)

Max. height

1.264,75 mts

Min. height

372,65 mts

Slope

892,10 mts

Acc. drop

2.198,00 mts
BUS
(
http://www.titsa.com
):
Santiago Apóstol (Código 4120): Lines 339, 352, 353, 354, 390, 391 y 546
TAXI:
Servitaxi Realejos: 922 346 045

Radio Taxi: 922 346 096
PLAN AHEAD: When organising your hike, don't forget to bring your charged mobile phone, sun protection cream, hat, adequate clothes and shoes, as well as sufficient water and food.
HIKE IN COMPANY: Before setting out, consult the meteorological conditions to make sure they are adequate. Inform family or friends about your route and only walk on marked paths.
AVOID MAKING NOISE: You will enjoy nature better in silence.
DON'T LEAVE RUBBISH:
Take any rubbish with you, including anything organic and be especially careful with cigarette ends. This way you help maintain the beauty of the landscape and prevent the proliferation of rodents.
RESPECT THE ENVIRONMENT: Don't pick plants and don't take animals or objects from their surroundings. Respect the locals' way of life.
BE CAREFUL: Hiking in nature holds risks. You hike under your own responsibility.
LEGAL DISCLAIMER
This leaflet is meant to be informative. The information it contains can depart from reality and cannot precisely represent the actual state of trails and paths which may have suffered alterations due to weather and other factors after this information was printed.
We remind you that adequate means and equipment have to be used for hiking and that you should always act with the necessary precaution that this activity demands.
The town hall of Los Realejos publishes this leaflet to make the trails of the municipality known to the public and does in no manner assume responsibility for its incorrect or negligent usage.